GEARHEARDT – A Novel
Written by Phillip Jennings
Click here to visit website
This is the last in the three-book series begun years ago. It is, again, satire. The first book, Nam-A-Rama, came out in 2005. It was a satirical view of the war in Vietnam, of which I was a happy participant. The dual protagonists in the book were Jack and Gearheardt.
Goodbye Mexico was published in 2007. A black comedy featuring the same central characters, now employed by the Central Intelligence Agency operating in Mexico. I attended graduate school in Mexico.
Now Gearheardt completes the series. Jack and Gearheardt are still ostensibly working for either the government, Wall Street, or the CIA. The difference eludes them and probably the reader. (I am here to tell the reader it makes little difference). And their theater of operations is Wall Street and its annex, Washington DC.
---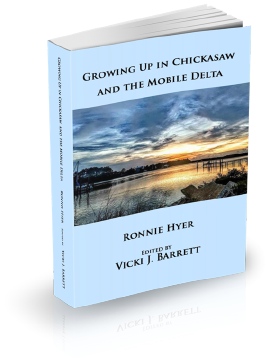 Growing Up In Chickasaw and the Mobile Delta
Written by Ronnie Hyer
Edited by Vicki J. Barrett
Chickasaw is a small town on the Gulf Coast of Alabama. It was built, as a company owned town, to house workers for shipbuilding in World War I, by Tennessee Coal, Iron, and Railroad Company. The shipyard closed at the end of World War I but reopened at the beginning of World War II and thousands of families moved to Chickasaw to be part of the war effort. Gulf Shipbuilding built 74 ships there for the United States Maritime Commission. At the end of World War II, the town was purchased by an investment company and homes were offered for purchase. Many families bought homes and stayed. Chickasaw was a very close-knit community. Children had a safe place to grow up and everyone looked out for one another. My parents were some of the many who were part of the war effort and stayed to raise their families. Ronnie Hyer's family moved to Chickasaw when he was young. He and my brother became friends and were always off on adventures together. This book is a compilation of true stories about growing up in Chickasaw and the Mobile Delta as remembered by Ronnie. As the reader will see, he was a great storyteller with a marvelous sense of humor. In a complicated world, I hope this book reminds us of a simpler time. Vicki J. Barrett
---
The Billy Club
Written by George Lyles
Bitter and severely depressed, Ben declares war on trial lawyers and sets out to kill and terrorizes as many as he can. He forms "The Billy Club" (of one), so named from an idea he got from William Shakespeare play in which there is a statement referring to killing lawyers. He does not just go around randomly shooting lawyers but chooses them carefully and kills them in suspenseful and entertaining ways that will leave the reader hungry to read further to see how the next one turns out. Along the way Ben encounters some bad characters, who try to kill him.
---
Such a Woman
Written by Paula Lenor Webb
In researching for the book, Mobile Under Siege, author Paula Lenor Webb, came across a woman unlike any other who lived in the 1800s. Octavia Walton LeVert, living in the wealth and wilds of the expanding United States, influenced those around her. Paula realized how fascinating this story was and set out to discover more. After five years of traveling, visiting archives, and private collections, Paula Webb has written the true story of a woman ahead of her time.
---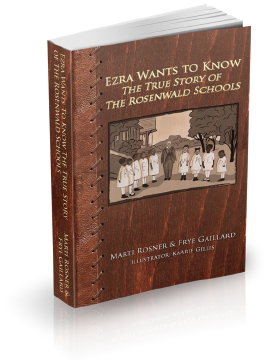 Ezra Wants to Know: The True Story of the Rosenwald Schools
Written by Marti Rosner & Frye Gaillard
With illustrator KaArie Gillis, authors Marti Rosner and Frye Gaillard share with young readers one of the most inspirational stories in American philanthropy. In the early years of the 20th century, Julius Rosenwald, president of Sears Roebuck & Co., worked with educator Booker T. Washington and grassroots leaders across the South to build more than 5,000 schools for African American children. Graduates of these life-changing institutions include Maya Angelou, John Lewis, and Pulitzer Prize winners Eugene Robinson and Cynthia Tucker. After multiple interviews and extensive research, Rosner and Gaillard tell the story through the eager questions of Ezra, a curious little boy inspired by Rosner's own mixed race grandchildren. The result is an accessible, easy to read account – a history of hope in a difficult time that should not be forgotten.
---